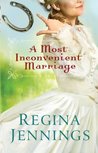 A Most Inconvenient Marriage
by
Regina Jennings
My rating:
5 of 5 stars
Paperback, 336 pages
Published December 2nd 2014 by Bethany House Publishers
ISBN 0764211404 (ISBN13: 9780764211409)
Setting: Missouri (United States)
Abigail was a nurse and took care of many wounded soldiers, but Romeo was different. She looked forward to seeing him and talking to him every day. When Romeo new his end was near, he asked Abigail to marry him so that she would go back to his farm and look after it along with his sister and mother. Abigail arrives on the farm and begins to clean things up and take care of Romeo's family. That is, until a man arrives on the farm and everything she thought was true turns out to be a grande charade, from the grave.
I didn't realize until I finished the book that this was the first book by Regina Jennings that I have read. Wow, I have got to read more from her! I absolutely loved the pacing of the story, there wasn't a dull moment. And I loved the humor mixed in!
What I thought was really interesting is it brought to light something that I've always wondered. How in the world did they keep the records straight during the war of who was who? Anybody could say they were anybody, marry anybody, and take over their farm. I found that very interesting.
I don't know exactly what made me like this story so much, I just did. It was historical, it was romance, it was humor, it was sadness, it was just a great mix of everything and I thoroughly enjoyed being a fly on the wall in the Calhoun family's house! I'm looking forward to reading another Regina Jennings book real soon!
I was graciously provided a free digital copy of this book from Bethany House in partnership with NetGalley to review it. I was not required to write a positive review and the opinions I have expressed are my own.
View all my reviews